2020 Run as One Singapore Race Report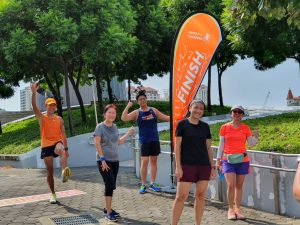 And that's a wrap! After 10 days, 240 fully utilised hours, we've finally had to close the curtain on Run As One Singapore. Thank you for supporting this event and showing so much positivity in your comments and feedback.
From experienced runners to first timers, husbands and wives to babies being pushed in strollers, we've had the whole spectrum of athletes taking part in Run As One Singapore. Through sunshine and showers, darkness and daylight, all running as one, to ensure this inaugural event lived up to its name and raison d'être.
Singapore Sports Hub played a pivotal role as venue partner for the event, where race-hungry runners lined up at the start line.
Deservedly, the final weekend was full of excitement with the top ranking in both the men's and women's 12.9km races changing hands with some fast times being laid down.
Pocket rocket Emma Middleditch, only 18 years old, and Dad James, were both out racing on Friday. Emma's 54:15 effort placed her in top spot in the women's 12.9km race, that was until Sharon Tan came along on Sunday morning and shaved over a minute off the teenager's time. Tan, the 2019 Singapore Marathon Champion, took the lead with 52:53 – a time that gave her the win, as no other woman was able to better it during the final day of racing. Not to be outdone by his daughter; James won his 50-59. category in 51:22. The fastest Team of 4 in the 12.9km distance was "RUnderated" in a time of 03:18:40 with Ang Desmond 52:09, Burton He 47:24 (and second overall), Evan Chee 51:17, Gordon Lim 47:48. More than 15 mins ahead of the second place team.
The story of the final weekend however surrounded the drama that unfolded in the men's 12.9km race. Ali King posted a swift 47:36 on Saturday morning and then waited in the hot-seat to see if any rivals were lurking to show their cards in the last days. Sunday morning, Burton He, the 2018 Singapore Half Marathon champion threw his iron into the fire, crossing the line twelve seconds faster than King in 47:24. With 15 hours of racing time remaining he would have been correct to think he had the race sewn up. But at the 11th hour, in the cover of darkness, Guillaume Rondy took off for this lap around Marina Reservoir. With his time motivating him to keep up the pace, he reached the finish flag in 46:24 to claim the 12.9km crown, and in the process overall honours in both men's races, as he also won the 5.6km with a leading time of 18:33. Congratulations to our Run As One Singapore double champion!
The 5.6km distance was also competitive in the women's category, Mireille Couture took the win in 25:33, over Andrea Biro in second place with 26:27.
Congratulations to you all for your own personal achievements – we hope you had a great experience.
Finally, we would like to give a big mention to New Life Community Services with whom we have worked for the past few years. Through all your donations made at checkout, as well as individual runner fundraisers, we are proud to announce that, so far, $130,000 has been raised to support the next generation of children in Singapore. It's not too late to donate, if you wish to support this initiative.