CHARITY
IT'S NOT JUST ABOUT THE RUN: LET'S MAKE SINGAPORE A BETTER PLACE
---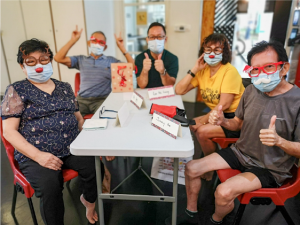 At Run As One Singapore, we believe in sport as a means to feel good and do good. New Life Community Services returns as the Official Charity Partner of Run As One Singapore with the goal of raising S$250,000 for 2023. As a runner, you can contribute by donating or rallying to raise funds for New Life Community Services.
To become a fundraiser, please contact New Life Community Services (charityrun@newlife.org.sg)
ABOUT NEW LIFE
---

New Life Community Services (NLCS) is a social service agency passionate about nurturing children, mentoring youth and enabling seniors in the community, in order to give them hope and purpose.
NLCS emphasises imparting life skills and character values to the next generation, including disadvantaged children and at-risk youth, in order to improve their life outcomes. They do this across a wide range of services, from childcare and student care to literacy and mentoring programmes for children and youth. NLCS also conducts active ageing programmes to support the physical and social needs of seniors and provides financial assistance, casework and counselling for disadvantaged individuals and families.
In 2022, NLCS raised a total of $4.8 million which allowed them to impact 1,841 beneficiaries. This year, NLCS aims to raise $6.9 million in donations for the expansion of their services and deepening of their impact in the community. To that end, NLCS has come onboard as Run As One Singapore's Official Charity Partner with the target of raising $250,000.
Please join us in partnering with NLCS to do good for the community!
To donate directly to NLCS:
PayNow UEN: T00SS0057E
Interbank Transfer: OCBC Bank Account 581-473-667-001
Indicate NRIC and contact number in the Reference Number field for tax deduction purposes.
(All cash donations are eligible for 250% tax deduction.)