FIRST TIMERS' GUIDE TO RUNNING
A big welcome to all first timers' to the wonderful sport of running. Whilst we are working towards bringing physical events back, we hope you enjoy your hybrid running experience with us, and that it fosters a lifetime of exhilaration.
Running can all seem a little overwhelming to begin with, there is new kit to wear, shoes to choose, and funny things called gels to consume. Let us help guide you so you have just what you need for a successful first hybrid race!
GEAR UP!
---
So what gear do you need to compete in a Run as One Singapore event?
The most important consideration for a running event, and particularly in the climate of Singapore, is comfort and moisture wicking ability. Running gear is designed to be light and breathable, which is exactly what you want.
Essential gear:
Running shoes (purchase a good pair of running shoes designed for your arch and stride type. If you're not sure which type of shoe you need, visit a local running specialty store to get fitted properly)

Running shorts and t-shirt or singlet (or try our event tee!)

Socks – Good socks are as important as good shoes. Look for socks that are seam-free, and ones that manage moisture so you won't get blisters.

Running Cap

Sunglasses (great for training – probably not needed on race day!)

Hydration belt – it's perfect for carrying your drinks so you can stay hydrated during your run.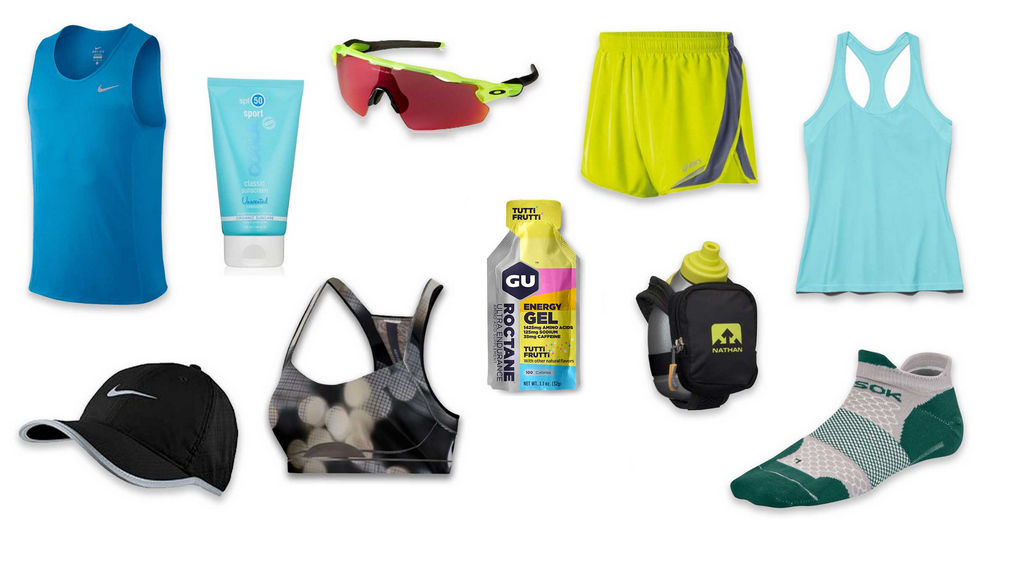 TRAINING
---
5km
You can start your aerobic base building by doing a run/walk plan, like the successful Couch to 5K plan. A good first week of running is three sessions of 20 to 30 minutes total of jogging/running/walking. Be sure to space your training days throughout the week to give yourself a chance to recover and rest.
Don't worry about how fast you are running. Speed will come later once your aerobic base has improved. Just increase the duration of your runs gradually. It is important that your first runs should be completed at an effort and pace that is easy and comfortable. Most beginners don't know what an easy or comfortable pace should be so they tend to push too hard. A comfortable pace is one you feel confident you can sustain for the duration of your run. It is better to run too slow and finish feeling like you could have gone longer or faster, rather than finishing exhausted. A simple way to determine your pace and effort is to listen to your breathing. If you aren't gasping for air and you can talk while you're running, then your pace is just right.
Don't be afraid to walk. Walking breaks the run into smaller, more doable pieces. These breaks will allow you to run longer and faster. Walking breaks work best if you walk for one to five minutes.
When you finish your first run, don't stop suddenly. Instead, walk for another five minutes to cool down gradually.
12.8km
You know you can run a 5K. Maybe you've already finished one.
If you've covered at least 4kms, 3 to 4 days a week, for 2 months, the answer is: ohh yeah! The 12.8km is where endurance fun begins. It propels most new runners into uncharted, but highly rewarding, territory: around 60 minutes of running. Hitting that hour mark will push your cardiovascular fitness skyward and increase leg strength (not to mention give you an excuse for a victory dance). Plus, the added endurance can also boost your 5K time and lead you to longer races like the half and full marathon.
Training
Training for a 12.8km doesn't have to take over your life. It allows you to set goals and train hard, but also enjoy the scenery and still have time to see friends.
Include longer slow runs – start with 40 minutes and start building by 5 minutes each week until you reach 80 minutes. Then you know that you will make the distance on race day. Run these sessions at conversation pace, it should be quite leisurely.

Shorter sharper sessions – combine speed work and strength endurance (running at a consistent pace) that allow you to concentrate on refining your running technique so it is as efficient as possible. Try 1-4 minutes repetitions at 80% effort with lots of recovery so you can get your heart rate back down.

Run uphill – it helps maintain posture and it works against gravity, so it builds strength and power. Most people do it too quickly, so don't fall into the trap of running up too fast and walking back down. Run up a hill in control, and then 'fall forward' on the way back down. Don't feel tempted to sprint, you risk injuring your calf muscles.
TRAIN WITH US!
---
If you would like some guidance, MetaSport have weekly coached sessions. These are group sessions that are lots of fun, with an experienced coach to give you tips and feedback. Check out our MetaSport training page for more information!
RACE DAY PREPARATIONS
---
Here's what you can do to make sure you're in tip top shape on race day:
Taper – reduce your training in the days leading up to the race. Cut total training distance by 50-60 percent during race week, and include some short sharp workouts to freshen you up.

Recce the route – walk or cycle the course prior to the event. This will give you information on hazards such as sharp bends, potholes or high kerbs. Or examine the course map!

Check your kit – don't try anything new on you chosen race day – stick with what you like from training. Take note if your clothing or shoes rub in certain areas, and use body glide or band aids to protect.

Tactics – tactics are up to you, depending on your level of fitness. Go relatively easy for the first half of the race to avoid burning out, and aim to run a negative split. This is running the race faster as the race progresses, and ultimately means your second half should be faster than your first!

Hydrate – drink two liters of water the day before the race, and at least 500ml before the race.

Relax – don't be scared! Pre-race nerves are perfectly normal, and won't stop you performing at your best. Harness the support of the crowd and volunteers during the race, they will give you a boost when you need it most!
RACE DAY CHECKLIST
---
Pre-race
Read the race preparation page on our website in the days preceding the race to ensure you are aware of all race information

Ensure you choose your time-slot to run. If your plans change you can amend your time in your registration.

Download the MyRaceGate racing app onto your phone and complete the onboarding process.
Ensure you have the correct app settings on your phone

Pre-fill a water bottle and bring it with you to use during the run

Ensure you bring a headset to wear during your run so you can hear the audio guidance and motivational messaging

Go for a slow jog to loosen your muscles and get your heart moving
Run
Press start on the MyRaceGate app on your phone to begin recording your run

Follow the audio instructions to direct you as you run along the course

Pace yourself and remember to drink along the way!
Finish
You don't need to press stop on the App, it will advise you and cease timing once you reach the finish marker

Your run data will be automatically saved and uploaded to the leaderboard

Pat yourself on the back for finishing your first (albeit hybrid) race!