RUN AS ONE SINGAPORE: INTERVIEW WITH SHARON TAN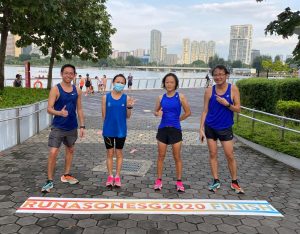 How does it feel to be back racing?
Feels great!
Did you push yourself as much as you would have in a mass participation race?
Yes, as my teammates and I started at the same time. We had each other to push and encourage as we ran.
Was your decision to run the 12.9km on the last day of the 10-day period a strategic one so that you could see the time you needed to beat?
Yes. It was a good gauge for us to assess how fast we needed to run, and hence it served as a great encouragement.
Did you use the "select your competitors" feature so that you could compare your pace to those of the race leaders?
No, I did not.
And/or did you choose a "target time" to pace yourself to a winning time?
Yes, I did input a target time, and the app prompted me a few times that I was behind the target time. haaaa…
What was your favourite feature of the app?
The auto-stop function was great as no time was wasted to stop the run time. Additionally, the voice overs and the accurate GPS guiding were awesome!
Why did you choose Run As One Singapore?
The team of four category is great as we can race with our friends for a common goal. =)
How have you stayed motivated during this period where there hasn't been any competitive events happening?
Running with friends and running some time trials have helped to keep the motivation level high for me. 🙂
Would you do an event such as Run As One Singapore again?
Yes! The common route and the app that all runners have to use made it a pretty fair race for all.