Two winning strategies for the Run As One Singapore race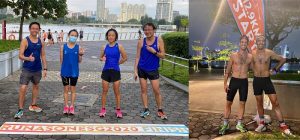 Guillaume Rondy and Sharon Tan, the Run As One Singapore winners for the competitive 12.9km run, are both experienced runners. They were both excited to be back on a running course after the lack of sport races these past few months.
In preparation for their race, they both took very different approaches and yet, they both managed to claim victory.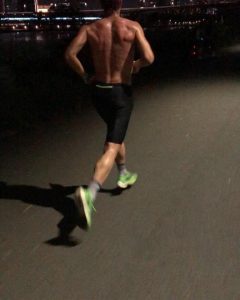 Guillaume chose to do the 5.6km run early in the week to scope out the course and test the app, but this also meant he needed to maximize the recovery time in before the 12.9km run, so he chose to book a time slot for the last day of the week at the latest possible time, Sunday at 20:30. It turned out to be a great strategy as the leading times for the male category had improved significantly over the previous 24-36 hours. Guillaume had the challenge of having to beat an amazing time of 47:24.
To do this, he decided to follow both our app features so he "selected a competitor" (the race leader to beat) and chose a "target time" to pace himself to a winning time. In his own words "having this feature was very useful to keep me committed. It was actually a very nice additional oral cue to my watch to confirm that my pacing was at least as good as the target I had set myself."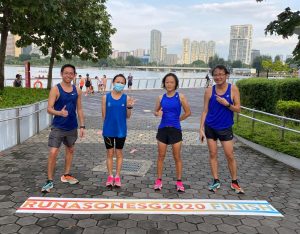 Similarly, Sharon also decided to run on the last day of the week as it was a good gauge for her to assess how fast she needed to run, and hence it served as a great encouragement. However, she decided to go all in and did not test the app in advance.
As opposed to Guillaume, Sharon actually completed her run in a team of four, which gave her the benefit of having others to push and encourage herself as they ran. In addition, she also followed our app feature and selected a target time which prompted her a few times that she was behind the target time!

Guillaume and Sharon both finished with amazing times, 46:24 and 52:53 respectively and most importantly, with amazing smiles, happy to be back racing! Congratulations to both for the win!