WE'RE BACK, HERE'S WHAT'S NEXT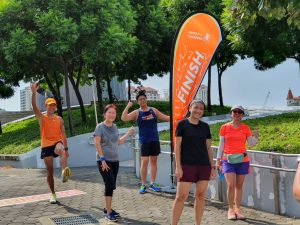 Yes, we are marching towards the light! After months of gloom, the light is burning brighter for MetaSport as we continue to navigate our way out of the fog that is Covid-19 and look towards the future.
Our first event, the Run As One Singapore kicked-off on Friday 23 October, as the first post-Circuit Breaker running event in the city. To meet the social distancing requirements, it was conducted over a 10-day racing period. Over 1,000 excited runners joined us in the sell-out event. They tied up their shoelaces, this time with a purpose, and while running the course listened to audio messages directing and motivating them to achieve new goals through the newly built MetaSport "Run As One racing app".
We have come a long way. The past six months were filled with very overwhelming periods for our team (and admittedly our athletes and the rest of the world). From staff losing their jobs, to coming back together as a team to brainstorm and execute this new racing concept. So, the heartwarming feeling this week of pride, satisfaction and gratitude is immense. We could not be more grateful to the athletes who have shared positive feedback about the event. You are the reason why we have persevered, and why it's a such a nice feeling to see you all running again. You push us to raise the bar, to stay positive, and keep going.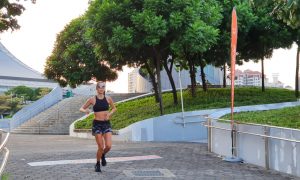 Among the many lovely messages was one from Robert Quek who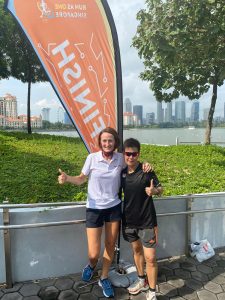 commented "Since circuit-breaker I have continued to participate in a number of virtual runs but I must say the Run As One Singapore is by far the best experience I've had. I liked the fact that the route is 'fixed' rather than run from "whereever". The curated app ensured I was 100% on the correct route. The snippets of the sights and the occasional sprinkling of singlish to urge me on to keep pace on my target time, and my run statistics immediately after the run all contributed to the wonderful run experience. Kudos to the team. Well done, and thank you".
Initial survey results support Robert's thoughts, with 73% of runners rating the event as "Excellent or Very Good", 88% of runners saying they would do another event similar to Run As One Singapore, and 91% saying that Run As One Singapore was considerably better than other virtual events they have done previously.
So, how did the concept come to life? As soon as the circuit breaker was announced in April, we started brainstorming about using technology to keep racing alive in the absence of physical events. However, we didn't want to organize yet another virtual event. We found that the virtual concept was flawed with the inability to accurately validate and rank athletes' times due to the differing route that each person ran. We wanted to be better. Our athletes deserved better. We wanted to enable fair competition. To move forward we partnered with app developers to bring our vision to life. User stories were developed, hours of phone calls were had, and slowly the foundations were laid to a new business opportunity.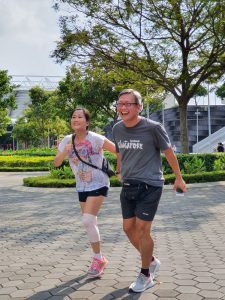 Sport Singapore was immediately enamoured with our idea and has supported us through their "Enterprise Innovation and Capability Development" grant, and "Blended Events Initiative", along with assisting with obtaining the necessary approvals for our pilot event, the Run As One Singapore.
Weeks were spent testing, and retesting. Who would have thought that the inner quirks of smartphones with their low power mode, wifi connectivity and low battery issues, combined with the density of tall buildings and trees can affect audio messaging and GPS signal quality so significantly? After hundreds of tests we realized our planned venue at Marina Bay had too much GPS interference from the city skyscrapers to be a viable start and finish location. So, we made a last-minute change to the Sports Hub, where new routes were developed and final tests done, and then we were ready for the big unveil.
The first race day of the event arrived, but it felt different for our staff (and no doubt our runners!). On site, the start line felt unusual. There were only a handful of athletes, and two MetaSport staff, all socially distanced. Missing were the contractors, the tents and stage, the DJ music and race venue buzz. The greater MetaSport team were all sitting behind laptops in different cities around the world, answering phone calls or emails, tracking results, liaising with the developer, and preparing finisher items for postage. The days that followed had us spending hours problem solving app download challenges, GPS tracking issues, and timing queries. All in a post-Covid19 day's work!
So what lies ahead for MetaSport? With a smart phone, and a sense of adventure we will continue to offer participants new sport opportunities. Exciting developments are coming up for multisport athletes (not just runners!) which will be launched soon.
Our team will continue to develop these new technologies while working from home. We have become truly international, with staff now based in Europe, Australia and Asia. Google meets have become a fixture of our daily working lives, with a pivot to cloud-based workplace platforms and the sending of thousands of WhatsApp messages monthly (really!).
In a world where API's, static data, proof of concepts, latest version pushes and unexpected behaviours have become part of our new language, it's an exciting time for all.